Hot damn it's that time. Yes your favorite blog writing guy is going to do what you, the tens of readers hath begged upon him. Yes I shall break down all of the matches from the upcoming Clash of Champions pay per view and give you who in my humble opinion should win. Without further ado I give you my predictions.
Breezango VS The Bludgeon Brothers
One of the biggest surprises during the brand split has been the popularity of Breezango and their weekly skits "The Fashion Files." What I loved is that it finally gives these two very competent wrestlers tv time and a chance to actually wrestle more than being a squash. However that is not what this match is going to be.
Luke Harper and Erick Rowan in their best War Machine from Ring of Honor cosplay gimmick they got going are being built as monsters
.
Unfortunately that means my very stylish boys are gonna have to do the J-O-B.
Winner: The Bludgeon Brothers
The Usos VS The New Day VS Shelton Benjamin & Chad Gable VS Rusev & Aiden English (Smackdown Tag Team Championships)
This...is a mess. Now it could either be a beautiful chaos or it could be a clunky confusion. My guess given those involved is that it will be beautiful chaos. The New Day and the Usos are the cream of the tag team crop. Gable and Benjamin are two of the best pure wrestlers out there. And Rusev and Aiden English have surprised everyone with their Rusev Day gimmick. I have absolutely no storyline idea as to who will win so I'm going with what I wish will happen but probably won't. Everyone...IT'S RUSEV DAY!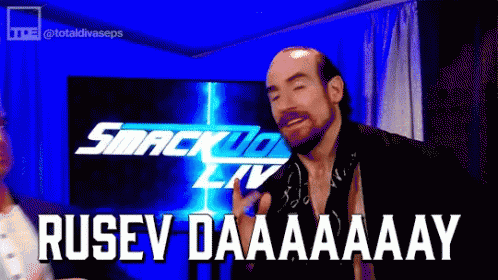 Winner: Rusev and Aiden English
Natalya VS Charlotte Flair (Lumberjack match for WWE Women's Championship)
The match itself is not in doubt. Charlotte is going to retain. The real question is how. This is a lumberjack match and something tells me this is going to be used as a vehicle to get the Riott squad over. If I had to take a guess, a fight will break out on the outside and somehow spill into the ring causing a disqualification and leaving Ruby Riott standing tall over the Women's Champ until Becky Lynch returns to run them off.
Winner: Charlotte (via shenanigans)
Bobby Roode VS Dolph Ziggler VS Baron Corbin (United States Championship)
Dolph Ziggler being added to this match tells me one thing, and that is Baron Corbin is going to lose the United States title.
Ziggler's main role in this match is going to make Roode and Corbin's offense look devastating as that man can sell his ass off and eat the pin from Bobby Roode to keep him looking strong because I'd imagine he is on his way to feuding for the World Title with AJ Styles until the Royal Rumble.
Winner: Bobby Roode
Jinder Mahal VS AJ Styles (WWE Championship)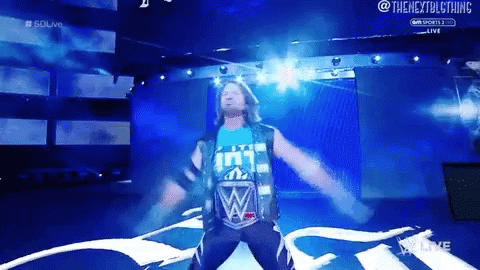 They tried to add a swerve with the Singh brothers seemingly growing a backbone and vowing vengeance for months of shitty treatment by Mahal when he was champ. That...was a lie. So I'd imagine the Singhs will take some kind of insane bump that will make them look as though they are dying and AJ will have just enough time to hit a Phenomenal Forearm on Jinder and retain the title. I fully believe AJ will hold the title until at least Wrestlemania when we get the Nakamura-AJ match we have all been craving and Jinder shall drop to the upper midcard.
Winner: AJ Styles
Randy Orton & Shinuske Nakamura VS Kevin Owens & Sami Zayn
This match is downright infuriating. First off we're supposed to cheer for Shane McMahon but in actuality he's been the biggest heel in this entire feud. Constantly seeking vengeance for something you got revenge for already just seems like a dick move. And kind of insinuating they should be fired is the dick bag cherry on Shane's shitty sundae.
That said I expect it to be a pretty good match as three of them are outstanding in the ring and Randy Orton ain't half bad either. You can probably expect a pretty good match with Shane and Daniel Bryan finding themselves at odds. That being said there is no way Sami and Kevin lose this match and their kayfabe jobs. They'll be fine and the Kevin and Sami show will roll onward.
Winner: Owens and Zayn
There we have it. The next pay per view we get will be one of the big four, The Royal Rumble which will put us firmly on the road to Wrestlemania. I'll be here of course to give my opinion which will undoubtedly be wrong but I'll give it anyway. Be easy humanoids.