Ah it's the most wonderful time of the year. If anyone knows anything about the old Puma of Chocolate origin it's that he loves himself some NBA basketball. In fact, I'll step out on a limb and say that the NBA is THE BEST SPORTS LEAGUE. This is not an invitation for debate, if you have a differing opinion I invite you to create your own moderately visited blog and espouse your own crazy opinions! Now that we got that out the way in honor of the upcoming NBA season I shall give you a few of the takes rattling around the Chocolate noggin.
1. Dennis Smith Jr. is going to be the 2017-18 Rookie of the year.
Quickly becoming one of everyone's dark horse picks to be rookie of the year, I am drinking the kool-aid. Wildly athletic to a Westbrookian degree, he landed in the perfect spot.
2. Fred Hoiberg will get a contract extension.
3. Brett Brown will be Coach of the Year.
Does this count as a hot take? I'm not sure. What I am sure of is Brett Brown is one of the best coaches no one has ever heard of. Why has no one heard of him? Because he's been with the Philadelphia 76ers and consistently been given one of the worst rosters in the sport. Now he has a good mix of youth (Markelle Fultz, Ben Simmons, Dario Saric, and Joel Embiid) and veterans (JJ Reddick, Robert Covington, Amir Johnson) to make some strides towards a playoff spot in the East. A big part of that will come down to my next take...
4. Joel Embiid will play in at least 65 games.
It's crazy that in 3 seasons he has only played in 31 games but here we are and we are still excited at the possibility of what he can become. In a brief showing last season he showed the footwork, speed, and power that had Bill Self losing all composure when he was at the University of Kansas.
5. Toronto's window has shut.
For a brief shimmering moment some believed that the Raptors had a chance to dethrone the Cavaliers. That was cute. While the rest of the Eastern contenders got better they stood pat, in fact they may have gotten worse. While Boston acquired Kyrie Irving and Gordon Hayward, Toronto added....googles furiously...CJ Miles? Well it could be worse he typed looking at a tear stained photo of Jimmy Butler.
6. Nikola Jokic wins the Most Improved Player Award
One thing I have learned from twitter is that outside of Kobe or LeBron no one has fiercer defenders than Nikola Jokic. And after seeing him in person last year as the Nuggets drubbed the Bulls I can see why. He has officially surpassed Kenneth Faried as the low post force and with the offense seemingly built around him the sky is the limit for the lanky Serbian.
7. Houston will earn the #2 Seed in the West...
Adding Chris Paul to the already strong core of James Harden, Trevor Ariza, and Clint Capela will definitely make Mike D'Antoni a happy man.
8. It Won't Matter, they're losing in the Second Round
9. Giannis Antetokounmpo Will Win NBA MVP.
There I said it. Greek Freak joins the Parthenon of NBA Greats who have won an MVP award. Bad puns notwithstanding, the table is set perfectly for him.
10. The Chicago Bulls Will Not Even Win 20 Games.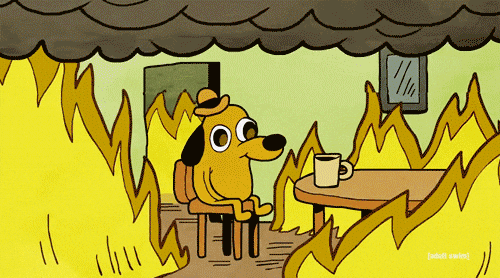 Live look at most Bulls fans
This one hurts the most. As a lifelong Bulls fans I have seen some insane highs, but now we're about to witness the darkest timeline. A timeline where we see a player to watch as Paul Zipser. Where we are depending on Bobby Portis to become at best a poor man's Taj Gibson. As we're being led into games by Fred Hoiberg, a man who barely commanded the respect of a college locker room.
Well there you have it. Not sure these are scorching takes but they're mine and I am gonna ride with em. Let the madness begin!