Ah yes here we are and the co-branded pay per views are all over. What does that mean for me? Well it means less previews because both Raw and Smackdown will do these events together. And whew, your boy is quite pleased at this because he was struggling to keep up. With all that being said let's get down to the get down.
Braun Strowman and Bobby Lashley vs Kevin Owens and Sami Zayn
This is a kind of thrown together match. Owens and Zayn are two of the best in ring performers going. Braun Strowman should probably be Universal champ based solely on flipping an ambulance with his opponent still inside.
As for the 4th person in the match it gets tricky. As a babyface he's just a generic void of charisma. As a heel however, he is this perfect cocky ass clown you want to see get beat but it doesn't happen. If this leads to a Braun-Bobby feud I could be down but I fear this is just gonna be a squashington for my boys from Canada.
Winner: Strowman and Lashley
Daniel Bryan vs Big Cass
So I am torn here. On one hand I am super pumped to see the American Dragon tearing it up in the ring again and frankly I don't even care what the stakes are of said match.
On the other hand while I'm not so down on Big Cass, I'm not all the way there yet. I do think Daniel Bryan will work a match that makes Cass looks strong but also gives the people what they want becasue...come on, we've been waiting so damn long for his return. A good back and forth battle but in the end the fans get what they want and honestly the way it should as D-Bry gets the win.
Winner: Daniel Bryan
Roman Reigns vs Samoa Joe
I have zero idea what they are doing with Roman Reigns. He probably should have won at Mania but he got nerfed. He probably should have won at the Greatest Royal Rumble instead they went with the dusty finish, so what do we do now?
"Joe's gonna kill you..."
Samoa Joe is now on Smackdown and while he is one of my favorites a loss here doesn't hurt him and conversely a win doesn't help him. In the case of Reigns he has lost every big match it seems for the last year at least. He needs this win if he is ever to be believed as a threat.
Winner: Roman Reigns
Charlotte Flair vs Carmella (Smackdown Women's Championship)
This one is hard to call. The women's scene in Smackdown has certainly picked up since the last roster swap and NXT call ups. You now have Asuka, Billie Kay and Peyton Royce, Mandy Rose, Sonya Deville, to go along with some of the more established women like Becky Lynch, Naomi and the two ladies involved in this match.
Peyton Royce Hive assemble!
I would say some interference on behalf of Kay and Royce may help Carmella retain. I also have noticed that there seems to be seeds being planted for a women's tag team division? Which yes, please bring it on. And then give said title to the Iconic Duo because Peyton Royce forever.
Alexa Bliss VS Nia Jax (Raw Women's Championship)
This women's match however is quite easy to call. After a long slow build with an uncomfortable body shaming angle, Nia Jax finally got her title win at Wrestlemania. Firmly cemented as a top face on Raw she is going to continue as I believe she will get a lengthy dominant run building her up as a formidable champion only to probably drop that title to Ronda Rousey. But that's down the road. As for now let's all enjoy the glory of Nia Jax before Rousey is shoved down our throats.
Winner: Nia Jax
Randy Orton vs Jeff Hardy (US Championship)
I don't know if it's possible to care less for a match than this one. I like Jeff Hardy as much as the next guy but good ol' Orton here is not your boy's cup of tea. I mean a very good wrestler, but compelling he is not. I am to believe that a guy who will seemingly hit an RKO on anyone out of nowhere is to be cheered for? If he was a sadistic heel to Hardy's charismatic enigma then I'm all on board. Honestly I think I'd be more amped to see Shelton Benjamin in this role.
The Miz vs Seth Rollins (Intercontinental Championship)
Another match where the ending is kind of not in doubt. The Miz is now on Smackdown and given that Raw has to have a mid card title Rollins is the obvious winner. That being said I still think that this is going to be an amazing match.
Currently operating in a different stratosphere.
These two have a great chemistry and right now Seth Rollins is on another level. I think this is going to tell the story of Rollins being the superior in ring performer but the Miz using his wits to make this a more competitive bout than it should. Hopefully post match we get a pseudo heel turn from Finn Balor and he becomes more like his New Japan gimmick of the Real Rock 'n' Rolla.
Shinuske Nakamura vs AJ Styles (WWE Championship)
Now this is a Shinuske Nakamura I have been waiting for. Don't get me wrong, I enjoyed face Nak, but evil Shinuske is where it's at. Since Wrestlemania he has been an eccentric weirdo who kinda is sadistic and kind of addicted to punching to AJ Styles in the dick.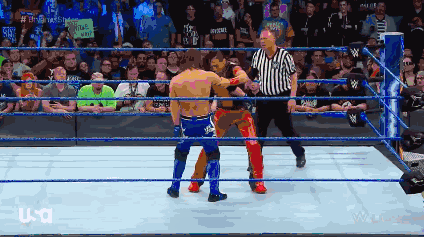 Pow! Right in the baby maker!
Now if they can keep Styles from trying to be funny the build up can be as awesome as I know the in ring is going to be. AJ driven by anger and his emotions, and Shinuske now unburdened from being a fan favorite. In the end I think Nakmura wins, but he wins by receiving a low blow from Styles and sets up a match at Summerslam.
Winner: Nakamura (By DQ)
Well there you have it, will any of these come true? Probably not. But hey again you come here for the free content and not the accuracy of said free content. Later people as we mosy down the path to NXT Takeover Chicago I think.