The time has come again for your faithful prognosticator of action within the circle that is squared to give you his humble opinion on what is going to happen during the next pay per view happening. And as usual the fine folks down in NXT have been laying the groundwork on some good ass storylines that will draw you into these matches without a doubt. Without further ado here are my predictions yo!
Kairi Sane VS Shayna Bayzler (NXT Women's Championship- 2 out of 3 Falls)
Kairi won the Mae Young Classic, Bayzler won their next battle, Kairi won the title from her and Bayzler regained it at Evolution. Seems like these two may be destined to this forever Gargano-Ciampa style. Given the introduction of the rest of the Four Horsewomen of MMA I would imagine that the damn numbers game may just be too much for our beloved Pirate Princess to overcome.
I would think that Bayzler wins in a way that utilizes her running mates and gets the audience more acquainted with Jessamyn Duke and Marina Shafir.
Winner: Bayzler
The Undisputed Era VS Pete Dunne, Ricochet and The War Raiders (War Games)
Long live the Bruiserweight
The Undisputed Era won the first War Games match last year. Given that I would expect... FOR THEM TO DO IT AGAIN. I am all in on this group of ridiculous assholes. They are a cohesive unit while Ricochet and Pete Dunne have simmering animosity while the War Raiders seemingly have simmering animosity towards everyone.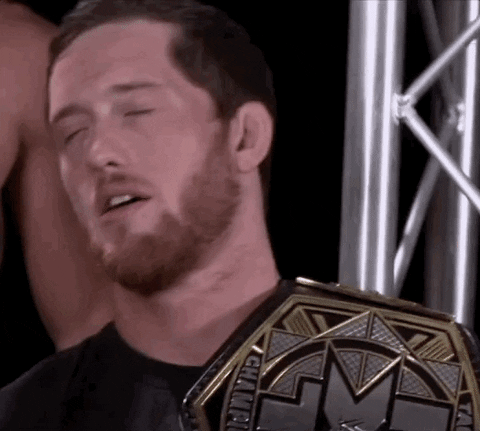 What a dick.
All this being said these are the things I can guarantee, Adam Cole is gonna look like a star, Kyle O'Reilly is gonna be a dick, Ricochet is do something amazing off the top of the cage and Pete Dunne is gonna make us shake our collective heads and and wonder why he isn't on Raw or Smackdown right this moment.

Winner: Undisputed Era
Aleister Black VS Johnny Gargano
I loved scrappy underdog face Gargano but emo heel Gargano is equally as enjoyable for me. And hes going against someone who has a legit beef given he cost him his NXT title and kayfabe put him on the shelf so he could have a one on one match with Ciampa.
I think this could sneakily steal the show although is it really surprising when you put Gargano and a motivated Dutch occultist in the ring together? I think this match ends as most of Aleister Black matches do, with a Black Mass and we will see Black moved up to the main roster.
The Velveteen Dream VS Tommaso Ciampa (NXT Championship)
This may be the worst built feud of any match on this card. That said this match is going to be goddamn amazing. Ciampa has been an insufferable and horrible human since turning heel. As for the Dream, every time he has gone out he has gotten better.
This is a guy that as I have said numerous times, has it. I think that given all of the big matches that he has been in the time may have arrived for the Dream to ascend to the next level. And given his age he could be a long reigning champ in NXT and really keep the ship steady until Wrestlemania season when I'd expect him to be called up because he is MONEY.
Winner: Velveteen Dream
Well folks there you have it. I've done the watching so you all can sit back and truly enjoy the show.