Keeping with what I have been attempting to do with each pay per view this year I shall give my predictions on what I think will be going down at the next show. But before I do, I'd like to express a few thoughts on Bobby "The Brain" Heenan.
The announcer, wrestler, manager, and well anything else you can think of in the wrestling world passed away this after a hell of a battle with cancer. Some of my earliest childhood memories of wrestling are of him as a manager, and most in my mind his friendship and partnership with Gorilla Monsoon. Their banter back and forth while also calling matches were not only entertaining, but also gave the proper gravitas to whatever match was being called. A consummate pro, and entertaining to the end. The Brain aka The Weasel will definitely be missed.
Now on to the show!
Jason Jordan VS The Miz (Intercontinental Championship)
Since coming over as the kayfabe son of Kurt Angle, Jason Jordan has just kinda been there. Impressive in the ring sure, but nothing that draws you to him. So what does creative do? They stick him with the Miz and let Miz do what he does best and that's talk. He has given us more to root for this guy with just a few promos than 2 previous months of squash matches. I see this as just the beginning of a possible good feud, I expect the Miz to win with some shifty interference from the Miztourage.
Winner: The Miz
Sasha Banks VS Emma VS Bayley VS Nia Jax VS Alexa Bliss (Raw Women's Championship)
Ah yes the disjointed women's division. This...is a mess. And this is not the fault of the women at all.I just don't know what story they are trying to tell. Why have Sasha win bringing up past failed defenses only to have her fail to defend it? Why just throw Baley in because she showed up? Why have Emma go on conspiracy rantings about starting the Women's Revolution?
Guess who is getting squashed by Asuka next month?
Are they ever gonna address Nia Jax and Alexa Bliss? Also with Asuka coming to Raw what does that do? So I'm just gonna guess that say...Emma wins.
Winner: Emma
Enzo Amore VS Neville (Crusierweight Championship)
Since returning from injury and turning heel at the start of the year Neville has been amazing. The King of the Cruiserweights has dispatched every foe who has stepped up and challenged him. Enzo was kind of man with no home after Big Cass went down with an injury so he seems kinda shoehorned into the Cruiserweight division. That being said he is a bigger name than well all of the cruiserweights and has gotten smurfed by Neville on numerous occasions already so I expect a very over confident Neville to get rolled up and Enzo to walk out with the title.
Yeah...
Winner: Enzo Amore
Finn Balor VS Bray Wyatt
So the Demon Finn beat Bray at the last pay per view, and given that creative apparently has nothing for either of these guys let's just say Bray wins and they have a rubber match at the next pay per view.
My reaction to this match.
Winner: Bray Wyatt
Dean Ambrose and Seth Rollins VS Cesaro and Sheamus (Raw Tag Team Championship)
This match is possibly going to be the most entertaining on the entire card. Cesaro is probably the most gifted athlete in this match thus his nickname the Swiss Cyborg. Sheamus is a brawler who can puts on highly entertaining matches, while Rollins aka Crossfit Jesus shines with anyone. Hell this feud has even lit a fire into Dean Ambrose who seemingly was just going through the motions. That said I think Rollins and Ambrose retain here and maybe, just maybe some certain Top Guys are healthy enough to begin a feud with them.
Winner: Ambrose and Rollins
John Cena VS Roman Reigns
Ah yes, Big Match John versus the Big Dog. I honestly expect this to be a very good match. When Cena isn't making dick jokes and wanking motions in his promos is one of the best in the world (see his US Open challenge matches). And while it can be argued he has buried people in the past, in recent memory he has done a pretty good job of putting people over such as Kevin Owens, AJ Styles, Sami Zayn, Jason Jordan just to name a few. If I were booking this, Cena wins, Roman begins to doubt himself and you have someone that fans can relate to and would want to cheer. Instead Roman will win, act like nothing happened and be shoved down our throats as the conquering hero.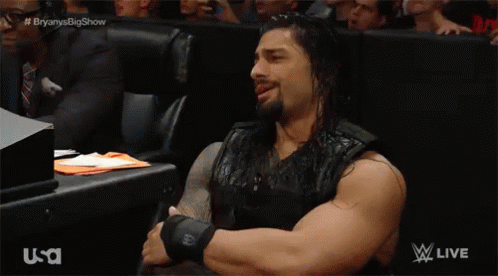 "Something, something yard...something, something Big Dog."
Winner: Roman Reigns
Braun Strowman VS Brock Lesnar (Raw Universal Championship)
In the words of the great Jim Ross, this match is going to be a slobberknocker. Given the negative tag of "part-timer" you have to admit that Brock Lesnar has looked like a million bucks in his last few defenses and made his opponents look legit as bad asses. He did it for Samoa Joe, he did for everyone in the fatal four way, and I think that streak continues Sunday. Braun has been built as a monster but this dude...can...GO. He's faster than someone that size should be with the ability to do drop kicks and kip ups as if he was half the size. Honestly I don't mind who wins, but for the sake of having a champ on tv every week I am going to say Braun gets his first run with the title. Also he gave us this moment which I'll forever be grateful for.
Winner: Braun Strowman
Well there you have it, another pay per view another round of increasingly inaccurate predictions! Join me when I incorrectly pick the matches of Hell in a Cell in a few weeks!