We are firmly on the road to Wrestlemania and this little speed bump here should get us a clearer idea of what matches we can expect to see. I of course have a ton of fantasy booking that I would do which would be amazing but they will probably go another route because my mind is just too awesome. Without further ado I give you my predictions.
Baron Corbin VS Braun Strowman
This match is just odd to me. Strowman goes from being the next man to take on Lesnar to dropped and now in a feud with Baron Corbin for...reasons?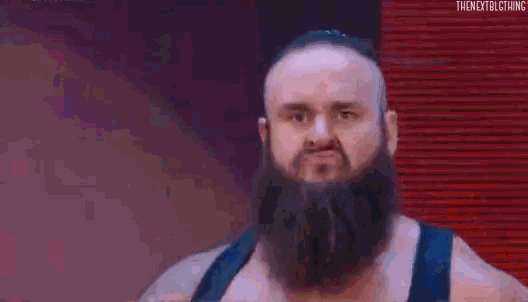 Corbin was great in my opinion as Constable of Raw but where are they going with him now? He was amazing on the mic and is just such a natural heater so I think he can be an awesome heel going forward but he has got to get out the Chili's waiter gear.
Winner: Strowman
Finn Balor VS Bobby Lashley and Lio Rush (Intercontinental Championship)
They were in a weird spot with Lashley but kind of righted the ship by pairing him with the obnoxious Lio Rush. This guy is gold. Not only is he an awesome wrestler, he has got that smart ass mouth that makes you want to choke him like managers of yore.
Give us Balor Club you cowards
Balor is coming off a great performance against Brock Lesnar, and is building quite a but of momentum. Given the odds are stacked so against him I think the time is here and Balor will overcome and get his first piece of main roster gold.
Winner: Finn Balor
The Usos VS The Miz and Shane McMahon (Smackdown Tag Team Championship)
The story told with the Miz and Shane McMahon has been a good one. Two guys doing all they can for their father's approval and achieving something no one expected.
A preview of things to come?
But...let's be real. There is no way this team should even in kayfabe, be able to defeat the Usos who are possibly the best tag team in the world. I would think the Usos win but this sets up a heel turn by Shane, then at Wrestlemania you have a babyface Miz going against a Heel Shane McMahon.
Winner: The Usos
Ruby Riott VS Ronda Rousey (Raw Women's Championship)
Now this match is not really in question. Ronda Rousey is going to win. That being said I think that this becomes a showcase for the world to see how good Ruby Riott is.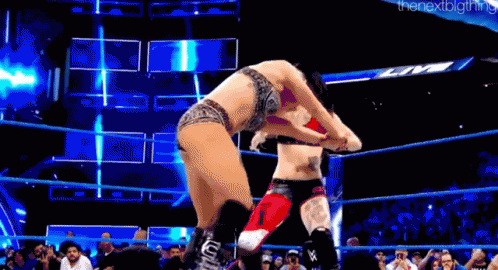 And possibly set up a trade of her to Smackdown to be a credible heel to go against Asuka. Also don't let Ronda talk. Please.
Nia Jaxx and Tamina VS The Riott Squadd VS Mandy Rose and Sonya Deville VS The IIconics VS Naomi and Carmella VS Sasha Banks and Bayley (Women's Tag Team Championship)
Finally at long last we get what wrestlers and fans alike have been asking for. They have done a great job building the teams up particularly Jaxx and Tamina as the powerhouse duo, Sasha and Bayley as the underdog faces, and of course the Riott Squad as the unpredictable team.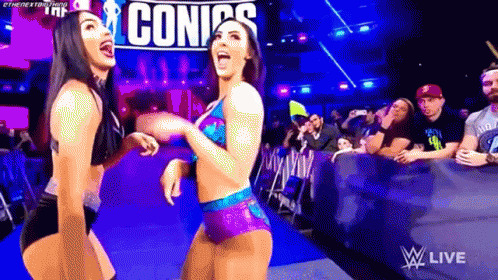 Peyton Royce Hive Assemble!
It comes down to two teams for me, Sasha and Bayley and of course, the IIconics. I believe given the booking the past few weeks, Sasha and Bayley are gonna shine
Kofi Kingston VS Randy Orton VS Samoa Joe VS AJ Styles VS Jeff Hardy VS Daniel Bryan (WWE Championship)
The blue brand has done a pretty good job of setting this up to the point I don't really know who is going to come out of this as champ. I think you can say Samoa Joe and Jeff Hardy are least likely to pick up the title. I think the real dark horse in this has got to be Kofi Kingston. For years he has been the dependable hand, never hurt, never in trouble and the consummate professional.
Give it up for the Mega Dad of the Year!
While Kofi probably won't win it, it would be the most interesting. Imagine going into Wrestlemania with Daniel Bryan the eco warrior going against the leader of the most consumption based group in WWE history. Alas a man a can dream. It will probably be Bryan so we can run it back with AJ Styles but screw it, I'm calling an upset!
Winner: Kofi Kingston
Well there we have it, another pay per view in the books and another attempt at prognosticating by your boy. Enjoy the predictions of a legend in his own mind that you didn't request and didn't know you needed.