There's something you all should know about me. From my comic book obsession to waking up early on Sunday mornings (albeit with some assistance from my dog, shout out to Trotter) to watch Mysteries at the Museum and whatever documentary is playing I have fully accepted this as one of my core personality traits. One of my nerdier or less adult passions would be professional wrestling. Yes I know it's staged, and no I don't care. Given this fact, I have decided that as a favor to all of you who don't watch it as fervently as I do, I'm going to give you the 5 wrestlers you may not know but might want to give a look at.
5. Ricochet aka Prince Puma
Holy crap, this guy does moves that you literally won't believe. Currently wrestling in New Japan (among other places) as Ricochet and as Prince Puma in Lucha Underground he constantly causes you to rewind over and over again. Seriously look at this:
I could do that if I wanted to, I just don't want to.
Ri-goddamn-diculous. Already a grizzled young vet with 9 years of experience at 27 years old he really makes me seem lazy as by 27 I had only amassed an unspectacular dvd collection.
4. Kazuchika Okada
The Rainmaker as he is known in New Japan is probably my favorite non WWE wrestler now that Shinsuke Nakamura is dominating at NXT. Okada is reminiscent to a younger Randy Orton in that there are no wasted movements in the ring. He is a spectacular showman as he poses and money with his face on it rains on the crowd. At only 28 this is a person who could be the face of New Japan wrestling for years to come. Also anyone who throws a clothesline like this will always have a place in my heart.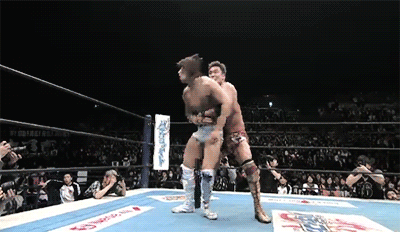 3. Zach Sabre Jr.
Britain's answer to Daniel Bryan, Sabre combines hard hitting strikes with technical prowess. Most known for his 2008 match with Daniel Bryan, then wrestling as the American Dragon Bryan Danielson, he was only 19 years old and took the best technical wrestler in the world to the limit and he has only gotten better in the 8 years since. In the comming months he will be participating the Global Cruiserweight Series being held by the WWE. Something tells me he won't be unknown to the masses much longer.
2. Jay Lethal
He may be my favorite non WWE wrestler if not for the man coming in at number one. He had two of my favorite gimmicks of all time when he wrestled in TNA. One as Black Machismo, a Macho Man clone essentially and as basically a Black Ric Flair. Seriously check out his impersonation. It's amazing.
Since moving on from there he has become a world champion at Ring of Honor and a dominant one at that. He has an exciting moveset and charisma that has the crowd either cheering out of control or wanting to run him down with their car.
1. Kenny Omega
Without a doubt the most entertaining wrestler on this list. Currently he is the leader of the wildly popular Bullet Club and has the nickname of "The Cleaner." He comes to ring with a broom to sweep out his trash opponents. Seriously.
Once in the ring he is wildly reminiscent of Brian Pillman. He can pull off moves of people who are much smaller, and power people with moves you usually see from much larger wrestlers. He is truly a 5 tool player if we're mixing analogies. Also he once fought a child. I can respect that.
Well there you have it. A non soul crushing post that I actually enjoyed writing. Now if you'll all excuse me I'm going to play with my dog and try not to wake my wife up as I'm sure he is going to begin barking soon.