Boy it's been a while since I last blessed or tormented you depending on what you think of my delightful musings. Since my last post my favorite season has begun. No, not the Christmas holiday but the NBA season. Nothing makes me happier than watching endless hours of basketball and playing armchair general manager for well all of the teams. Here's my thoughts so far on this delightful season.
Most Pleasant Surprise: Jimmy Butler, SG, Chicago Bulls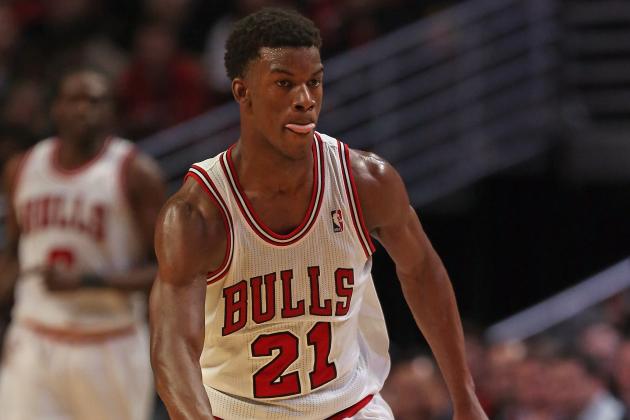 Since coming into the league Jimmy G. Buckets has been a favorite of mine. But even with me being the eternal optimist when it comes to the Chicago Bulls, I have been downright shocked at the awesome play from Butler especially on the offensive side of the ball. Always an elite defender he has been getting to the free throw line a la Dwayne Wade from 2

0

06 to 2

0

09. The Bulls may regret not signing him to a long term deal before the season because he has shown the ability to be an alpha dog on a good to great team.
Most Overblown Story: Derrick Rose's playing time.
Again perhaps I am showing my Bulls optimistic bias but the very careful approach to every tweak of a hamstring or rolled ankle is alright with me. With the Bulls having invested so much it's best to take a conservative approach and ease him back into playing through injuries. As I write this the Bulls have just defeated the Nets, Rose took more than a few falls and yet kept getting back up. This team and it's star player appear to be rounding into shape.
Most Impressive Player: Anthony Davis, PF, New Orleans
I remember when he came out of Kentucky I thought he would at best be a better Marcus Camby. Anthony Davis, sir. I was wrong. A dynamic force offensively, arguable the best defensive player and someone who makes even the hapless Pelicans look like a playoff team every night.
Best Coaching Performance: Steve Kerr, Golden State
Turns out you give one of the most dependable players of his era a team full of dependable guys and the best shooting backcourt in the league he can turn them into a team that doesn't make errors down the stretch and is currently the best team in the league. Also I'm sure they are in a much better mood after going through practices without hearing "hands down, man down" every five seconds like when Mark Jackson was the coach.
Player Most Needing to Apologize: Kevin Durant, SF, Oklahoma City
Now your curse has struck more members of the Thunder. Do the right thing and apologize Durant.
Most Entertaining Player: DeMarcus Cousins, C, Sacramento
I have no idea why but the sight of Boogie Cousins on a basketball court fills me with so much happiness. He is a legit 25 point, 1
0 rebound guy every night but it's his extra curriculars that entertain me so much. From calling Chris Paul out for flopping to his stare down of international opponents in the FIBA World Cup he is a general delight.
Well folks that's all I got for now. It definitely won't be months before my next post. I guarantee it!