The NBA Draft season is amongst us and this makes me a very happy Puma. What tempers my happiness however is that my beloved Bulls have earned a place in the lottery after a very lackluster and disgusting season which ended not with a bang but with a whimper.
But all of that is in the past. I will try and keep my happiness up as I go through hours of Youtube footage and NBA draft combine results for you the people.
I shall give you my predictions based on the draft order as it currently is.
Ben Simmons: F- LSU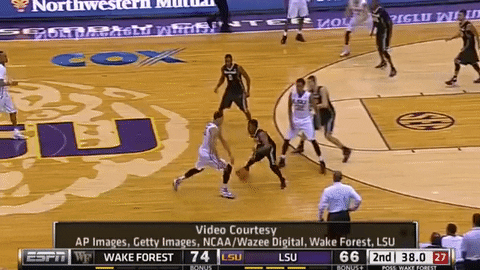 The consensus number one pick for most of the season goes in that slot for young Puma despite how a lot of analysts (not considering myself an analyst) have seemingly soured on him. Simmons has the potential to be a monster player. He's 6'10 with point guard ball handling, great defense and a natural ease rebounding. The only knock is he is not a strong shooter. That can be learned.
Brandon Ingram: F- Duke
I don't like Duke, this is not a secret. I feel pretty sick saying this…I really like Brandon Ingram. He was probably the most natural scorer in the NCAA last season and while he is slight of frame, he is quite reminiscent of Kevin Durant in his ability to get a shot off from anywhere.
Marquese Chriss: F- Washington
Super athletic and has the potential to be a really effective scorer but will need time.
Putting him on Boston with Isaiah Thomas shooting a million shots will give him plenty of chances to rebound and if he runs with the second unit je can work on his shot and footwork so he doesn't end up as another wild athletic forward who flames out (See: Thomas, Tyrus).
Dragan Bender: F – Croatia
Not too familiar but fits he'd would be a good move for Phoenix as they have Eric Bledsoe and Devin Booker in the back court. Team him with a traditional low post player like Alex Len (granted he stays healthy) and they could have a very solid young core if the grainy YouTube footage I am basing Bender's skill on is accurate.
Kriss Dunn: G – Providence
He has the potential to be the best player in this draft. Very good defensive player and passer, and while his jump shot could use a little work he is highly athletic and able to get to the rim at will sometimes. Teaming him with Towns, Wiggins, LaVine and new coach Tom Thibodeau and Minnesota continues their ascent upward towards the playoffs and away from the lottery.
Buddy Hield: G- Oklahoma
The most polished shooter in the draft Buddy could be the scorer from the 2 guard that the Hornets always hoped Eric Gordon would be. It's widely accepted he is the best shooter but what often gets overlooked is his ability to score off the dribble. Solid defensive player but he did handle the ball a ton which in the NBA will probably not work for most two guards. But I think he'll be able to learn to move without the ball and be quite effective.
Deyonta Davis: PF/C- Michigan St.
Far from being a finished product, I think he is however a NBA caliber rebounder and rim protector which frankly is something this team is going to need if Kenneth Faried is going to be making an exit sooner rather than later. With Emmanual Mudiay and Danillo Gallinari taking the bulk of the shots I think he may have a Tristan Thompson level ceiling.
Jaylen Brown: SG/SF- Cal
A 6'6 guard with a damn near 7 foot wingspan. He's physically impressive, very fast, very strong, and has potential to be an elite defender. Not the best shooter but not everyone can be Klay Thompson or Steph Curry. If he is a high energy guy who cuts to the basket and is a fast break finisher like he can be then the Kings could have a Rudy Gay replacement.
Damontas Sabonis: C- Gonzaga
The son of Arvyda Sabonis so you know he is a gifted passer. Seriously look up some highlights of his pops, he was a beast. He is great at drawing fouls, a highly accurate free throw shooter and a surprisingly good perimeter defender. Adept at slashing to the basket and putting the ball on the floor and getting to the basket he would fit in well with Kyle Lowry and could be a more mobile Marc Gasol.
Skal Labissiere: PF/C- Kentucky
I honestly have no clue what kind of player he projects out to be, simply because he just didn't play a lot at Kentucky.
He is a very slight player but there were flashes of him being an impact player. This is going to be a purely potential pick because as good as he looks in workouts and measurables the results on the court just haven't been there.
Jamal Murray: SG/PG- Kentucky
Now they already have guards Victor Oladipo and Elfrid Payton but he's just too good to pass up. Murray is a lights out shooter, has NBA range, surprisingly a good rebounder from the point guard position. Because he's such a good shooter at times he does depend on that shot too much sometimes but if he is beginning his career as offensive firepower off the bench he could be quite effective on that young Magic team.
Furkan Kormaz: SG- Turkey
Extremely accurate shooter, can score from anywhere on the floor.
Now I'm not sure if this is because he was playing against U19 competition but he had a confidence that no one could stop him and his teammates appeared to really respond to him. My only question on him is his defense, not sure if he is good simply because of the competition he went against.
Malik Beasley: SG- Florida St
Beasley is ridiculously athletic and always amped when he is on the court. Usually when you have this combination you have a very erratic shooter, not the case with Beasley. His form is immaculate and he is a knockdown shooter. IF there is a loose ball chances are you will find him in the aftermath. He doesn't have great handles which does lead to turnovers but that is something that can be improved given he is only 20 years old.
Jakob Poeltl: C- Utah
Not the most exciting pick but he is an extremely solid pick. A true 7 footer who runs the floor well, rebounds well and passes well out of the post he could be a good replacement for the likely to depart Joakim Noah and Pau Gasol.
A very efficient shooter but his post moves need a lot of work he could definitely be a contributor on a Bulls team that will likely struggle this season.
Well there you have it, the 2016 NBA Draft Lottery as it will actually happen*.
*It most definitely will not occur in this order.*