Last time on…The Chocolate Puma's Lair:
Now allow me to wax poetically about the Western Conference.
15. New Orleans: 16-33
It's been a long year for this young man.
The Anthony Davis pick has been an outstanding one. He has played every bit as well as he was projected to. Austin Rivers on the other hand has not quite turned out as well. He appears to struggle with the speed of the game and the dead eye shooter from Duke has turned into an inefficient 30% shooter from the 3 point line and 54% from the free throw line. Maybe they can try and get Seth Curry as they'll be in the lottery again.
14. Sacramento: 17-33
This team begins and ends with the mercurial creature known as Boogie Cousins. On one hand he is one of the best young bigs in the game averaging consistently a double-double. While on the other hand, Boogie like Hooch is completely insane.
Jimmer Freddette, much to the surprise of no one has turned out to be a bust, while Isaiah Thomas has been a steal. Here's hoping there impending move to the Emerald City will help this mercurial team because the talent is most definitely there.
13. Phoenix: 17-33
This is a team without an identity. No Steve Nash therefore no one has any idea what's going on here at all. There are some solid pieces in Marcin Gortat and Goran Dragic. Outside of that I don't see them competing for quite a while unless the strike it rich in the lottery.
12. Minnesota: 18-28
Andre Kirilenko clearly has been mentoring Sheved.
Ricky Rubio is still working himself back into playing shape. Kevin Love is out but when healthy he is the best power forward in the game. Alexy Shved has been outstanding however out of nowhere averaging over 10 points per night. If completely healthy all year this team definitely could have made a run for a playoff seed in the 6-8 range.
11. Dallas: 21-28
"Hello darkness my old friend…I've come to talk with you again." With an aging Dirk and no one outside of OJ Mayo and Darren Collison consistently contributing there are dark times ahead for Mark Cuban's crew.
10. LA Lakers: 23-26
Oh boy. The Dwight Howard experiment was supposed to be the Lakers opening salvo against the young guns in the NBA. Steve Nash was going to be the long needed upgrade over Derek Fisher and Steve Blake while Pau Gasol was going to get over his perceived disrespect that the Lakers tried to trade him to seemingly anyone. What happened was they jumped the gun and fired their coach early, brought in a coach that historically has never tweaked his system to the personnel he has, and a disgruntled Mamba as he watches his former whipping boys across the hall become the real show in Los Angeles.
9. Portland: 25-24
A team I definitely expect to be in the playoffs. Lamarcus Aldridge is a borderline elite low post player that will get you in the area of 20 points and 10 rebounds a night. Nicholas Batum and Wesley Matthews are solid pieces that any team would want. But the
coup de grace for this squad is the future elite point guard in Damian Lillard. He has come out the gate and proven himself to be possibly the most NBA ready rookie in this class. A young team and a historically good front office has me very excited for their future.
8. Houston: 27-24
This is another young team that is going to be a fun squad to watch in the coming years. They made a big splash in free agency overpaying for Omer Asik and Jeremy Lin but then boom added James Harden via trade and then have an inspired draft with guys like Terrence Jones, Royce White (jury is still out) and Greg Smith. A little experience and Kevin McHale is going to have an awesome team that could be a contender.
7. Utah: 28-22
This is a team that has most definitely over-achieved. That said though the big men on this roster are young and they are going to be good. We all know about Al Jefferson and Paul Millsap but the next crop of guys in Derrick Favors and Enes Kanter are very productive when given the opportunity. Gordon Hayward and Alec Burks are two solid guards but their starting point guard situation leaves much to be desired. I expect this team to fall out of playoff contention.
6. Golden State: 30-19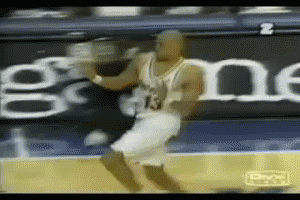 All you need to know about Mark Jackson
Not counting the curious case that is Andris Biedrins, the Warriors have exceeded all expectations so far with solid guard play and some hardnosed fouls (seriously ask the Houston Rockets about that.) They drafted well the past two years as Klay Thompson, Harrison Barnes and Draymond Green are all contributors.
This team has also shown the great coaching job by Mark Jackson.
5. Memphis: 30-18
I expect this team to make the playoffs but they will definitely drop to the 7th seed range as it appears they are in straight cash dump mode. That said Zach Randolph, Marc Gasol, and Mike Conley are just too good to let this team fall out of the playoff picture completely. Also the recent acquisition of veteran Tayshaun Prince will definitely be a calming factor. Austin Daye is going to be a wild card as to whether he can live up to his pre-draft hype.
4. Denver: 31-18
George Karl to me is arguably the best coach in the game. The guy just gets it. And no matter who you give him he turns them into a playoff team every year. I am almost convinced if took over the Chinese gymnastics team he could coach them into at least a 6 seed. He has taken perennial goofball Javale McGee and turned him into a solid contributor, Ty Lawson is arguably the fastest player in the league and playing under control and Danillo Galinari hits a circus shot every time he takes the court it seems. Expect a run into the second round at the very least.
3. LA Clippers: 35-16
The league's most exciting team has taken a stumble in recent weeks due to injuries to Blake Griffin, Jamal Crawford and Chris Paul but still are within shouting distance of the number one seed. With their injuries it is given some air time to some pretty good young players such as Eric Bledsoe and Deandre Jordan. If this team doesn't listen to Vinny Del Negro they could go far.
Kevin Durant is great. The only person who can stop Russell Westbrook is Russell Westbrook and this team coached by Scott Brooks is very, very good. They were able to overcome losing Harden and seemingly haven't missed a beat. It will be interesting how rookie Perry Jones III will be utilized in the second half as he could be a swiss army knife style player being used wherever needed.
1. San Antonio: 39-11
If George Karl isn't the best coach in the league then Greg Popovich definitely is. He takes his consistently too old squad every season into the playoffs as a 1 or 2 seed and still gets doubts. Hell he even sent his best players home against the Miami Heat and brought out a team led by Stephen Jackson and Gary Neal and still managed to push them to almost beating the defending champs. Tim Duncan is currently nursing an injury but after the all-star break I expect him and the rest of the geriatric gang to make a return trip to the conference finals.
Individual Awards
MVP: Kevin Durant, Oklahoma City- 29.3 points per game, 4.4 assists 7.5 rebounds per game.
Coach of the Year:
Mark Jackson, Golden State
Rookie of the Year: Damian Lillard, Portland- 18.4 points per game, 6.5 assists per game, 3.3 rebounds