With the NBA more than half over this basketball fiend has gotten his fair share of surprises, both pleasant and unpleasant. For one it has been great seeing how the Bulls have played this year. Apparently no Derrick Rose and there have been no problems as they are currently in the 4th seed and only a half game back of the third seed. Equally delightful has been the complete and utter failure of the Dwight Howard experiment out west. But that's for my Western Conference run down.
15. Charlotte: 11-36
This team is bad. I mean downright awful. The only real bright spot is that Michael Kidd Gilchrist appears to already be an elite wing defender and once his offensive game catches up he will be a perennial all star.
14. Washington: 12-35
Now this team is awful but they have interesting pieces. Bradley Beal is wildly inconsistent but when he is on he is on. John Wall now that he is back is a downright delight to watch. So fast and he has some great things ahead of him.
13. Cleveland: 14-34
Cheer up Kyrie, maybe Lebron will come back.






Kyrie Irving is a beast. I was wrong about this kid when he came out of Duke. I must have had my Blue Devil blockers on because wow is he amazing. Now after that they have a solid player in Tyler Zeller and Tristan Thompson but outside of that there is little hope for this franchise returning to the top without Lebron coming back.
12. Orlando: 14-34
You know it's bad in Orlando when people are saying "wait till Jameer Nelson" gets back! They got talented rookies but again Jameer Nelson and Big Baby Davis are your signature players. Aaron Afflalo has played well but this team is 3-4 years away as presently constituted from making the playoffs.
11. Toronto: 17-31
Terrence Ross is the only person worth noting. Youtube him and write your local congress person petitioning him to be in the slam dunk contest.
10. Detroit: 18-31
Andre Drummond and Greg Monroe are going to be a downright terrifying front court in the future. A good core with Brandon Knight and Kyle Singler playing well this team however will remain mired in the 7-10 seed range.
9. Philadelphia: 21-26
Lawd...
Somebody is having buyer's remorse. Andrew Bynum has yet to play, Nick Young is not a game changer and believe it or not they really miss the defense and leadership of Andre Iguodala. I'll call them incomplete though until Bynum plays. Plus note that Jrue Holiday is for real kids.
8. Boston: 24-23
Man this team is falling apart. Not mentally, but physically. Rondo, Sullinger, Wilcox, among others are out for the season or out for extended periods. Jason Terry has been a bust of a free agent signing and Paul Pierce is just not the player he once was. Wave the white flags boys and try again next year.
7. Milwaukee: 25-22
This team just is what it is. Every year this is where you will find them. Brandon Jennings and Monta Ellis are two of the most exciting players going but they unfortunately aren't game changers in this juncture.
6. Atlanta: 26-21
Jeff Teague is going to be a really good point guard for a long time to come, Al Horford is a very solid player, borderline all star, and Josh Smith remains the most frustrating player in the game, so talented yet so frustrating jacking up 3's with 22 seconds remaining on the shot clock. I don't expect them to go much higher than the 5 seed for this season at least.
5. Brooklyn: 28-20
Seemingly screwed over by Dwight Howard they have gotten a great season out of Brook Lopez. Joe Johnson and Deron Williams however have been inconsistent and it cost Avery Johnson his job. Playing much better under PJ Carleismo it will be interesting to see if they keep it up.
4. Chicago: 29-19
Soon...soon.
I'm gonna preface this by saying I am an unabashed Bulls fan so my opinion is biased. That said, this team WILL finish in the second seed. Without D-Rose we have been our normal consistent defensive self. Noah has earned that all-star spot, Deng is massively underrated, but the most pleasant surprise has been the bouncy athleticism of Jimmy Butler. Am I the only one whose heart begins to race when thoughts of Rose throwing lobs to Jimmy Butler cross your mind?
3. Indiana: 30-19
This team has been oddly successful. Danny Granger has been shown to be expendable with the play of Paul George who is just downright insane. Roy Hibbert has been a very solid center and George Hill is showing why the Spurs spent a first round pick on him all those years ago.
2. New York: 31-15
Who would have ever thought we'd see the day the Knicks played defense again? Tyson Chandler has been his normal great defensive presence but the play of Carmelo Anthony on both ends of the floor has been a God send. Mike Woodson clearly is a soothsayer getting this same group that seemingly gave up 900 points a night under Mike D'Antoni.
1. Miami: 31-14
Never forget.
Well duh. Lebron is the most talented player in the game, while Chris Bosh remains massively underrated. Dwayne Wad e is not who he used to be and I think he is being exposed as a dirty player. They are devoid of post play as really they don't have a center but anytime Lebron is lining up for you he can Mortal Kombat any team's hopes of dethroning the champs.
Individual Awards
MVP: Lebron James, Miami Heat- 27 points per game, 8 rebounds, 7 assists per game.
Coach of the Year: Tom Thibadeau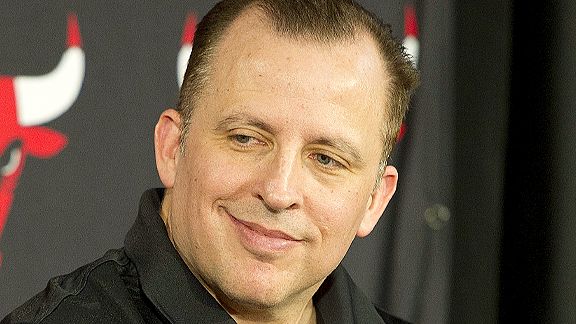 "Ya'll bitches doubted me didn't you?"
Rookie of the Year: Bradley Beal, Washington Wizards- 13 points per game, 3 reb per game, 2.5 asts per game.