Every year around this time baseball fans are subjected to some of the most self righteous, pompous ass clowns on the face of the planet. I refer of course to the Baseball Writers of America. Today is when the Baseball Hall of Fame should announce who will be enshrined into the 2013 class. Unfortunately looks like they have decided to play morality police and say no one is worthy of joining the hall. Now let the Puma tell you why that's stupid as all hell.
Now let me get this out the way, not all the baseball writers are ass clowns, but there are enough to warrant a rant from your favorite Puma of Chocolaty descent. I have seen so many articles of people entrusted with a vote that are sending in blank ballots due to a purveying culture of steroids. "No one was clean," "The game was cheated," and other phrases are sprinkled all throughout these articles as if this game was clean to begin with. Now I am not advocating cheating or using steroids but because you wanted to catch them, were unable to catch them doesn't mean you have to have the false sense of moral superiority. If you're one of these writers living in a fantasy world where you go out back and toss the ball with dad till mom brings you a nice cold glass of lemonade, don't vote. This game isn't for you and never has been.
We treat players like Babe Ruth, Ty Cobb, and others as these mountains of men who were the colossus of their day when Babe Ruth while very good was an alcoholic playing in a segregated league. Ty Cobb was a noted racist who on numerous occasions attempted to hurt his opponents.
Oh yeah, this guy is much more worthy of enshrinement.
Gaylord Perry won over 300 games with a pitch deemed illegal, one of the most famous plays if not the most famous play in baseball history "The Shot heard round the world," happened because the Giants stole signs and knew what the pitch was going to be. How are these moments in baseball history revered but the "Steroid era" everyone is automatically guilty and unbecoming of the game?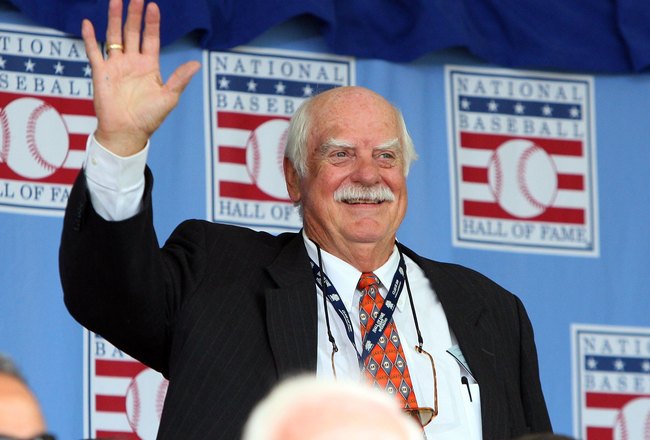 "I used an illegal pitch from the 1920s to go all the way to the Hall!"
Throw out the big names in this class most associated with steroids (Bonds, Clemens, McGwire, Sosa, Palmeiro) and you mean to tell me no one is worthy of enshrinement? Really? Well since we being all historical and what not, how about those guys that have hit those magical numbers we all associate with making you a hall of famer.
· Craig Biggio: 3,060 hits, 7 time All Star, 4 time gold glove winner, 5 time silver slugger winner
He was also hit 285 times, throw him a bone.
· Lee Smith: 478 saves, 3 time Relief Man of the Year, 71 wins, 3.03 era
· Fred McGriff: 2,490 hits, 493 home runs, 1550 runs batted in, 5 time all star, 3 time silver slugger winner
Tom Emanski approved!
· Edgar Martinez: .312 batting average, 309 home runs, 7 time all star, 5 time silver slugger winner, 2 batting tittles
There you go BBWA I just did your job for you.And if none of these choices are your cup of tea, don't send in a blank ballot. The voting is based on ballots submitted and don't screw over some of the veterans whom this could be their final chance.
If you want a much better rant than mine I implore you to check out this piece from Grantland by
Bill Simmons
Rant. Over.