So I was sitting and the news came across that Rob Gronkowski had another back injury that was going to potentially keep him out for 2 months. This made me think about historically could he be on his way to the "What If" All-Stars. Now this is a sad list of people that you always preface their career with "what if they stayed healthy." And as my mind is wont to do it wandered over to basketball and who could be considered the NBA's version of this. So without further ado I present to you, the NBA all time starting 5 of What If All Stars.
Point Guard: Penny Hardaway
Growing up Michael Jordan was my favorite basketball player. Coming in right behind him was Penny Hardaway.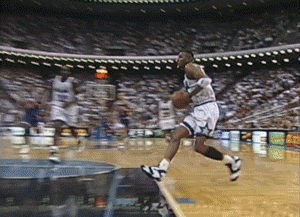 He was a modern day Magic Johnson. A 6'7 point guard who was able to score at will if he wanted to, but seemed to find more joy in setting up teammates to score. But after a trade to Phoenix he was plagued with feet injuries before having two microfracture surgeries on his knees effectively ending the explosive playmaker we had grown accustomed to seeing.
Shooting Guard: Ron Harper
When people talk about Ron Harper now they think of the veteran who came in and played great defense and was the starting point guard on the greatest team in NBA history (shout out to the 96 Chicago Bulls) I think few realize that he was a pretty dynamic scoring guard in his own right. Easily averaging over 20 points a game with Cleveland and later on the Clippers, an acl tear zapped him of the explosiveness that was so integral to his game.
Small Forward: Drazen Petrovic
Drazen was already killing it in Europe before coming to the NBA but when he got here….man. When he became a starter in New Jersey after a brief stint in Portland Petrovic was that dude. Averaged over 20 points and more than held his own against the elite players of the league. Unfortunately a car accident extinguished his flame before we ever truly got to see how great he could be.
Power Forward: Len Bias
You want someone who could do it all? Len Bias could do it all. Without a doubt a once in a generation player the man who could defend, rebound, shoot, dunk, and even tape ankles if you needed him to was going to extend the Celtics reign of dominance. Instead a cocaine overdose ensured that he would never get that opportunity to truly showcase his skills. He was only 22 years old.
Center: Greg Oden
Talking about a man amongst boys, Greg Oden completely overpowered the college game from a defensive stand point and was beginning to do so from an offensive stand point.It was a no brainer that he was the top overall pick. Then as was the case with another Portland draft pick Sam Bowie, the injuries began to pile up. Zapped of his mobility and footwork he became a slow plodding player who never really recovered.
Well there you have it. Guys who had things gone another way could have altered the landscape of the NBA but alas we shall ever know.