One of the things that drives me absolutely insane is an unearned sense of entitlement. Today's culprits of exhibiting such behavior would be college football fans and writers who are dusting off their moral soap boxes to condemn Christian McCaffrey who has decided to sit out the very prestigious* Sun Bowl.
He has a few more of these in him for free right?
Now I've gone on record numerous times saying that college athletes should be paid and not to be repetitive but if you want guys to play in a meaningless game then you should…PAY THEM. If you don't pay them, you can't be mad at them when they take the necessary steps to prepare for the next phase of their career.
But Puma, they get paid in an education you may be saying. I will counter with this. Say you have a student who is on an academic scholarship. This student is also a teacher's assistant. Now because this student is providing a service to the university they are given a stipend. The athlete is doing the same thing.
Nothing to see here...
They are providing a service to the university because merchandise; concessions and ticket sales bring in big dollars. But because there is no respect for athletes and they're seen in a lot of cases as idiots lucky to be on campus, they should shut up and not look out for themselves.
Even former players are chiming in on this ridiculous non story. Ezekiel Elliott, currently killing it for the Dallas Cowboys said "I would do anything to play one more time with my brothers in that scarlet and gray." That's funny to me because he could be playing in college right now had he not gone pro early.
Run and get paid young man.
I'm not knocking that decision just as he shouldn't knock McCaffrey or Leonard Fournette for taking care of their bodies and deciding to sit out a meaningless bowl game to get ready for the NFL combine.
Also I'm not sure if people know this but you can get really hurt playing football. I know it was surprising to me too.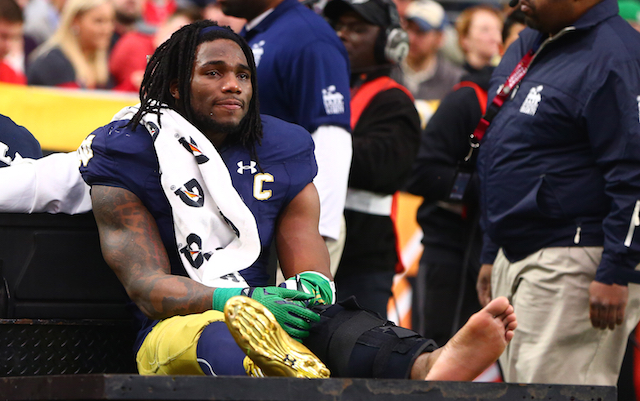 A sight no one wants to see.
Just google Jaylon Smith. He was projected to be a top 5 pick which would have at worst given him a 4 year fully guaranteed contract worth 23.5 million dollars.
Then in a bowl game that ultimately was meaningless, he destroyed his knee, dropped to the second round and received a contract of 4 years, 6.5 million dollars with 4.5 million guaranteed. Now after seeing that how anyone can be against a kid protecting his interests and his family's interests?
I love to watch college football, truly I do, but if a guy who is putting his body on the line and not being fairly compensated wants to put himself first for a change Young Puma respects it. As we see with coaches leaving at the drop of hat it appears the athletes are finally realizing that loyalty in the eyes of the NCAA is a one way street.
*Not prestigious at all, actually ridiculous.*