Another trip around the sun almost completed and you know what that means...time for year end lists galore! This year I have decided to write one of my mildly recognized posts about the sweet science of professional wrestling. I have named my year end award after one of my favorite wrestlers from my childhood, the ridiculously athletic and always entertaining 2 Cold Scorpio.
How could I not be a fan?




Rookie of the Year:
Matt Riddle (Evolve)
The master of the bromission is a legit badass as he began his career as an MMA fighter for UFC. He has easily made the transition to the world of professional wrestling and is currently tearing it up for Evolve Wrestling. He has the personality, style, and pedigree as a believable badass that no doubt will lead him to the WWE sooner rather than later.
Dear Lord.

Most Improved Wrestler:
The Revival (NXT)
This is a little bit of cheating as this is a tag team but hey I'll allow it. Dash and Dawson were two floundering acts in NXT when they were paired together and thus the Revival was born. A throwback to the old days of wrestling when as they would say "no flips, just fists." They are a modern day Brainbusters. Using old school moves and just flat out common sense usually they dominated the NXT tag team scene. Also their finisher, the Shatter Machine, is one of the best tag team finishers I have seen in quite a while.
Best Heel:
The Miz (WWE)
Ok before you rip my head off think about it. The job of a heel is to aggravate and annoy your baby faces and crowd. Who does that better than the Miz? From his cocky Hollywood persona to his constant use of his wife as a distraction to win, there has not been a better heel than the Miz. Seriously, watch him verbally eviscerate everyone's favorite Daniel Bryan on the mic so bad that people though that this was real.
Best Face:
Bayley (WWE)
Sweet wholesome Bayley (aka wrestling bae #2) was a no brainer for the best face of WWE. The plucky under dog who was always a fan and is living her dream. While she is a ridiculously talented wrestler and her and wrestling bae #1 Sasha Banks have put on classics, it's her infectious smile and happiness, not to mention her motto of "hug life" that ensures she is the face of the women's division for many years to come.
Wrestler of the Year:
Kenny Omega (New Japan)
There was no doubt in my mind when I was trying to decide who would be my wrestler of the year. Kenny Omega seized control of the Bullet Club in January and has been on a remarkable run which I wouldn't be surprised ended with a world title run. The Cleaner made an amazing run in New Japan's biggest tournament and turned in a classic against Hiroki Goto in the finals. Not to mention he is completely into his own gimmick.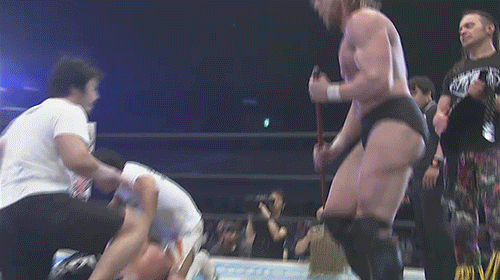 Don't mind The Cleaner.
Top 3 Matches of the Year:
3. Cedric Alexander vs Kota Ibushi (Cruiserweight Classic)
For years Cedric Alexander has been a good wrestler. This year he became a great wrestler. He left Ring of Honor, lost 30 pounds and became a cruiserweight. Against one of the hottest free agents in the world Kota Ibushi I knew it would be good, I was wrong. This was flat out amazing. For 20 minutes they went back and forth trading acrobatic moves and power moves until Ibushi was able to finally put away Alexander with the Golden Star Power Bomb. 5 stars all around.
2. Shinuske Nakamura vs Samoa Joe (Takeover: Brooklyn)
Nakamura is one of my favorite wrestlers in the world and if Samoa Joe is motivated there is no better monster heel in the world. What happened in Brooklyn was a hard hitting, jaw dropping display of the stiff Japanese style that both wrestlers have become famous for. Although my favorite part may have been Nakamura's entrance accompanied by a live violinist. Quite apropos for the man known as Swagsuke.
1. Kenny Omega vs Tetsuya Naito (New Japan G1 Climax)
As you can tell I am a huge fan of Kenny Omega, Naito I was less familiar with but damn I am all in now. He is the leader of the faction Los Ingobernables de Japon translated to the Ungovernables, a group who could care less about wins and losses and more about chaos. Together they put together a completely dynamic and unpredictable match in the semis of the G1 Climax tourney. Naito was quite adept at reversing many of Omega's moves and for my money no one in the world mixes power and acrobatic moves better than Omega. By far my favorite match of the year.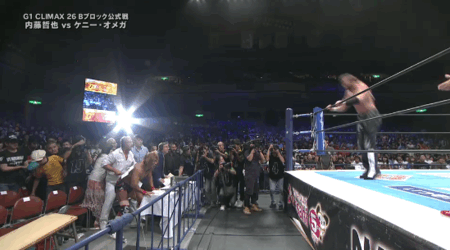 Holy. Crap.
Well there you have it. Maybe I'll crank out some more posts before the year's end but if not allow me to say it's been real 2016. May 2017 be gentle, please for the love of God be gentle.