Ah yes, friends and fans of the blog it is that time again. As a man who has made the championship twice in a decade and the proud owner of five teams this year I feel it is my duty to share some of the knowledge that has made me a legendary figure in the world of mediocre fantasy football owners. Without further ado I present to you the quarterbacks.
5. Colin Kaepernick: San Francisco
"Keep focusing on the tatts..."
Kap is the real damn deal as a very disgruntled Bears fan found out when he took over for Alex Smith after an injury. The guy has a rocket for an arm, runs like he has been injected with cheetah blood, and has a solid running game not to mention the best healthy tight end in the game. I expect 25 or more touchdown passes and 5 or so touchdown runs as the Niners have a real good chance to get back to the Super Bowl.
4. Cam Newton: Carolina
I am an unabashed Cam Newton defender. I don't think we have ever seen a quarterback with his skill set ever in this league. The reason I do not have him ranked higher is frankly his supporting staff is a tad bit suspect. Steve Smith isn't getting any younger, his running game has been underwhelming, and while Greg Olsen, a favorite of the Puma, has been solid he won't be winning you many games. 25 td passes and 10 rushing tds are very real possibilities.
3. Tom Brady: New England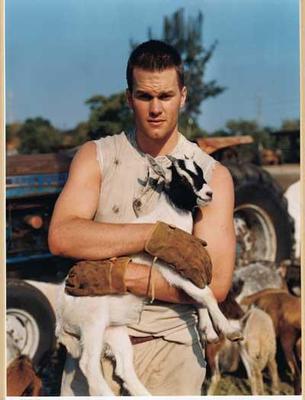 Never Forget.
Adding Danny Amendola should ease the burden of losing Wes Welker, and I believe that Lagarrette Blount and Steven Ridley in the backfield can hold serve until the return of Rob Gronkowski, you know the tight end that doesn't murder people.
2. Aaron Rodgers: Green Bay
As a Bears fan it pains me to say this but he's good. He's damn good. What is not good however is his facial hair choices. Hey don't judge me, it's all I got to criticize.
1. Peyton Manning: Denver
So hey remember last year how I said he was gonna be average at best? Yeah...I was wrong about that. And this year the offense is even better. With Welker added to the duo of Demariyous Thomas and Eric Decker not to mention the rookie Montee Ball who should flourish in the Denver running scheme I expect big numbers from the elder Manning of the NFL.
There you go folks, the first of my 2013 fantasy football rankings. Follow my tips and you too can finish 8-5 and lose in the second round!