What a weekend for college football huh? The Puma spent many hours sitting and watching not counting those hours I was hanging out with family but that's another story. Now I am ready to give the people what they want and that is the Puma's opinion on the players of the year. Some faces you recognize and some are new but all are worthy of your time and respect. Here we go kids.
5. Braxton Miller: QB- Ohio St.
Season: 2,039 Yards Passing, 15 Passing Tds, 13 Rushing Tds
It's a shame this kid won't get to show off this year in a bowl game but something tells me he'll get his chance next year. He has played outstanding football and steadily improving as a passer although he still relies heavily on his ability to scramble out of harm's way.
Season: 112 receptions, 1,680 Receiving Yards, 15 Total Tds
Holy crap this is what you call an elite wide out. Not only is his an amazing receiver this kid kills in the return game averaging over 30 yards per return. Historically receivers don't win the Heisman but damn it this is the Puma's award and we give props to those who deserve it.
3.
Colin Klein: QB- Kansas St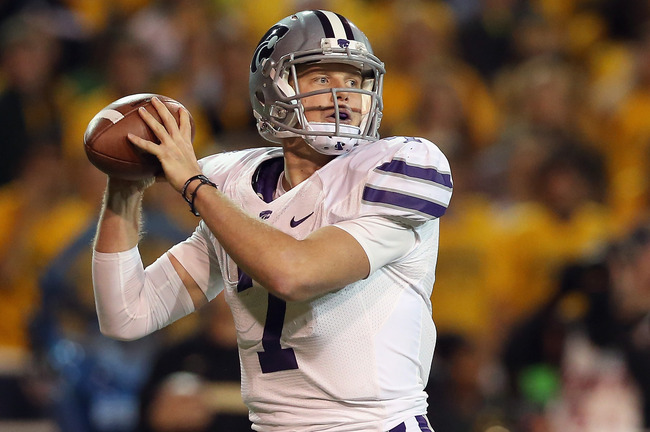 Season: 2,306 Passing Yards, 34 Total Tds
One bad game where you throw three interceptions and your previously unbeaten squad loses is all it take to go from the leader in winning the Heisman to almost an afterthought. Doesn't take away from the fact the kid has played tremendously well this year, even scoring an astonishing 20 rushing tds as a quarterback which is nothing to sneeze at.
2. Johnny Manziel: QB- Texas A&M
Season: 3,419 Passing Yards, 1,181 Rushing Yards, 43 Total Tds
I honestly believe this guy is going to win the Heisman and I can't think of any reason why he shouldn't. Over 4,500 yards of total offense and has led the Aggies to a top 10 ranking when it was automatically assumed that a move to the SEC would be a death wish. Way to prove me wrong freshman.
1. Manti Te'o
Season: 101 Tackles, 1.5 sacks, 7 Int, 4 Passes Deflected
Defensive players don't win the Heisman, but guess what? The Puma Awards are all they need. The consummate leader through a tumultuous personal stage in his life, his play on the field has not dropped off at all. A whirling dervish of effectiveness, his mere presence is a disruption to opposing defenses. I think Fighting Irish coach Brian Kelly said it best, "If a guy like Manti Te'o is not going to win the Heisman, they should just make it an offensive award ... just cut to the chase."
There you have it folks, but on a more personal note the Puma would like to introduce to all his followers the newest addition to his family, this blog and my twin sister.
Look at those eyes.
Clearly she has met her favorite person
Best buddies.