Well folks, it's another week and another edition of the Chocolate Puma's player of the year rankings. No need to procrastinate let's dive right in!
5. Johnny Manziel: QB- Texas A&M
"Pow bitch!"
Season:
2,527 yards passing, 922 rushing yards, 31 total touchdowns
Boy this Johnny Manziel is an exciting player the Puma must admit. I keep expecting a fall but nope this kid just keeps performing. It is going to see how he plays this week when he faces that vaunted Crimson Tide defense which is stingy against…well everything.
4.
Braxton Miller: QB- Ohio State
Season: 1,753 yards passing, 1,166 yards rushing, 27 total touchdowns
Just another day at the office for Mr. Miller as he fell one yard short of yet another game with 300 total yards in a 50-22 thrashing of Illinois.
3. Colin Klein: QB- Kansas St.
Season: 1,875 yards passing, 698 rushing yards, 29 total touchdowns
Klein drops this week due to the fact he left last week's game with an injury that well no one knows about. He had been playing well but given he couldn't finish the Puma is cautious.
2. Kenjon Barner: RB- Oregon
Season: 1,295 yards rushing, 19 touchdowns
Remember when I told you all not to get used to this kid in my top 5? Yeah I was wrong. And that's not something that happens often! This kid ran all over USC racking up 321 yards rushing with FIVE TOUCHDOWNS. If that doesn't scream Heisman moment I don't know what will.
1. Manti Te'o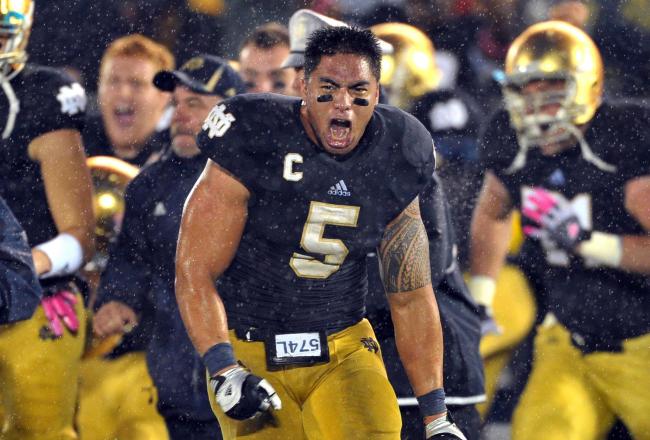 Boy he's excited to be in the #1 spot!
Season:
85 tackles, 2 sacks and 5 interceptions
Helped keep the Irish in the game against Pitt, and while statistically he didn't blow anyone away this week Pitt was definitely aware of where he was the entire day and certainly did their damndest to avoid his general direction. This guy is certainly a worthy contender for the Puma's player of the year award.
Well gang that's all I got for today, but keep your eyes peeled for my Mega college basketball preview.