Well free agency and the draft have passed for the NBA and all I can say is this off-season did not disappoint. From crazy ass trades, to superstars acting petulant and demanding trades in the most soap opera fashion imaginable this off-season has shown why the NBA is the best league out there and no this is not up for debate with me. So because the Chocolate Cub and I have spent most of our time together watching basketball, I shall share with you a few of my favorite and not so favorite moves of this off season.
Best Trade:
Minnesota trading for Jimmy Butler: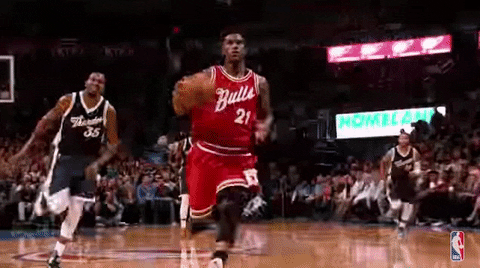 So long sweet prince.
Let's just go ahead and get this out the way. In Butler the young T-Wolves get a premier wing defender, reliable scorer and someone with a very attractive contract. All they had to give up was Zach LaVine who is coming off an ACL injury and Kris Dunn who they appeared to be quite low on. Thibs for the win.
Conversely…
Worst Trade:
Chicago trades Jimmy Butler to Minnesota for LaVine, Dunn, and Lauri Markkanen.
Giving him a legend like Tyrus Thomas number...smh
…Sigh. Had we not swapped draft picks as well I could have been convinced to like this trade. We give up Butler for unproven commodities in both Dunn and Markkanen, and a wild card in Zach LaVine. Bang up job there GarPax…just a bang up job.
Best Free Agent Signing:
This may seem like I'm cheating but the best signing during the free agent period had to be Kevin Durant signing for a discounted deal to remain with the Warriors.
You selfish s.o.b.
He could have gotten up to 10 million more per year elsewhere or in Golden State but he took a pay cut to allow the Warriors re-sign some valuable pieces and walk into the 2017 season as the presumptive favorites to win it all again.
Top Rookie of 2017:
Now here I am truly conflicted. From watching the Summer League there were three players that stuck out to me as potential perennial all-stars.
Jayson Tatum-SF, Boston: I wasn't too impressed with him while at Duke but he showed up ready to play. Clearly the most offensively ready player in the draft, he was able to score in a multitude of ways in Las Vegas. With a fade away already being compared to some of the game's best, the Celtics could be re-loading for a years long run at the top of the Eastern Conference.
DeAaron Fox- PG, Sacramento: The fastest player in the draft and already one of the 3 fastest players in the league. He is able to push the action with a controlled chaos much in the way John Wall does for the Wizards. If he can ever get a more consistent jumper Sacramento will have quite the player to trade away in 3 seasons to avoid going to the playoffs and stay in the draft lottery.
Lonzo Ball- PG, Lakers: Despite his blowhard of a father Lonzo has somehow become a very mild mannered, team first phenom.His vision is second to none in his class and while his jumper is not the most beautiful looking shot it is certainly effective. I hope he takes advice from Kobe on how to successfully navigate having an overbearing father.
Surprise Team of 2017:
Philadelphia 76ers:
Ya'll better trust the process.
Given the current weakened state of the Eastern Conference this pick may not seem like the best but with a core of Joel Embiid, Dario Saric, Ben Simmons, and Markelle Fultz plus veterans like Amir Johnson and JJ Reddick this is a team finally worthy of being coached by Brett Brown who has been woefully underrated due to the roster looking straight basura the last few years.
Most Improved Team:
Minnesota Timberwolves
Play time...is over.
Without a doubt no team improved themselves as much as the Timberwolves did. Not only did they add Jimmy Butler, they added Jamal Crawford, Taj Gibson, and Jeff Teague to go along with a young impressive roster that already had Karl
-
Anthony Towns, Andrew Wiggins, and Shabazz Muhammad. Tom Thibodeau for all his accolades as a coach definitely deserves some props for his front office work as well.
Well folks that's my time, now begins the long wait until training camps and preseason. If you'll excuse me I'll be getting myself pumped up for it.