As you all may have surmised, young Puma here is a massive fan of the professional wrestling. I could care less that people call it immature or will yell it's fake. I. Don't. Care. Now that we got that out the way, this Sunday there is a little pay-per-view this Sunday and I have decided to give you a little bit of my predictions.
Kicking off Clash of Champions we have:
Alicia Fox vs. Nia Jax:
This is going to be a bloodbath. Nia Jax is going to beat Alicia Fox (who is woefully underrated). I mean I get it; you have to build up Nia Jax as a monster heel but how about feeding her more local talent. The women's roster is a little thin so Foxy is going to have to be the one to take this beat-down.
Winner: Nia Jax
T.J. Perkins vs THE Brian Kendrick (Cruiserweight Championship):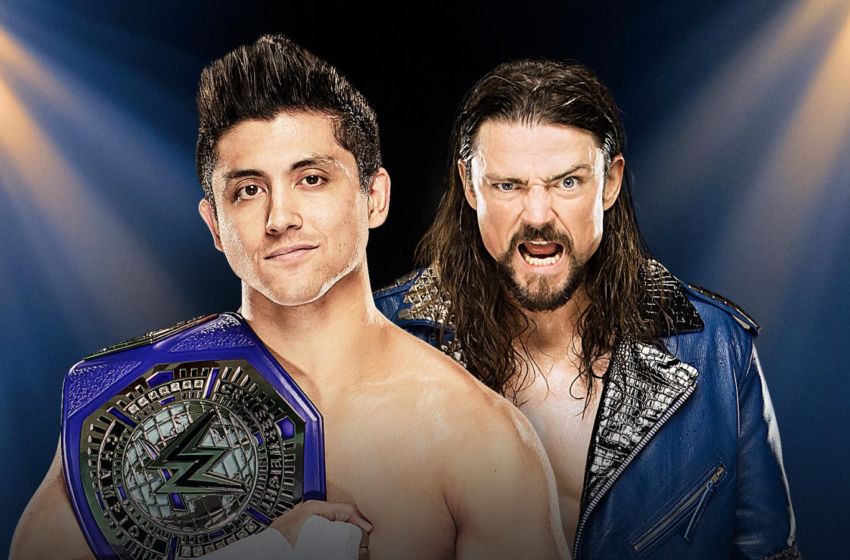 TJ Perkins shocked everyone and won the inaugural Cruiserweight Classic and is thus our Champion of the division. Kendrick is the returning wily vet willing to do anything to keep his run alive. I would love to pick Kendrick as the dabbing Perkins while a very good wrestler just kind of annoys me but it's too early to have a title change to a newly minted belt. So Perkins will win this. As a side-note, the true star of this division is going to be Cedric Alexander.
Holy crap is this guy good.
Winner: TJ Perkins
Cesaro vs Sheamus: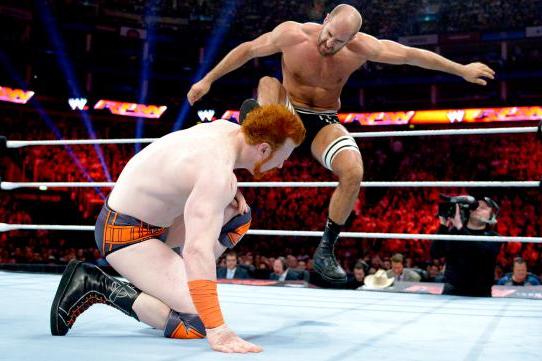 In the best of seven series where the winner gets a title shot we are currently tied at three wins each. In the ring Sheamus is always going to give you a solid match, his personality annoys the crap out of you but damn it I guess that's what a good heel does. Cesaro who should be a world champion has been accused of not having personality but no one can do the things the Swiss Superman does. If they are smart Cesaro comes out on top because a feud with him and either Kevin Owens or Rusev would be gold.
Winner: Cesaro
Rusev vs Roman Reigns (United States Championship)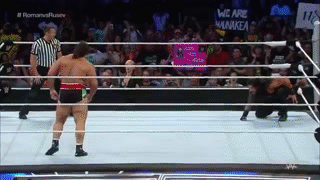 After his suspension for PEDs Reigns has been on a pretty good streak wrestling wise. While the story given to these two hasn't been as good as it should be, in ring (not counting the SummerSlam debacle) has been outstanding. I think the title stays on Rusev as Reigns will be feuding elsewhere in my opinion and doesn't need the United States title. I expect Reigns to win via disqualification. He doesn't take a clean pin and Rusev looks strong and protects the title.
Sami Zayn vs Chris Jericho:
They bear a striking resemblance...
Sami Zayn who appears to have a striking resemblance to former Ring of Honor wrestler El Generico is one of the most astonishing wrestlers on the roster. Seriously look up his match with Shinuske Nakamura from earlier this year or against Cesaro on NXT and you 'll see the hype. Heel Chris Jericho may be one of my favorite things on the face of the earth. This one low key could steal the show. I expect Zayn to win and beat Kevin Owens' best friend with a Helluva Kick.
Winner: Sami Zayn
Charlotte vs Sasha Banks vs Bayley (Women's Championship)
This may be one of the best women's matches in modern history. It certainly has the potential to be. Charlotte is probably the second best heel on the entire roster, Sasha Banks is bae (sorry Kari) and there may not be a better babyface and backup bae than Bayley.
Destined to do this forever.
If Zayn-Jericho doesn't steal the show then this one definitely will. All three are at the top of their game but I expect Charlotte to walk away with the title through shenanigans from Dana Brooke her enforcer in training (shout out to the crew at
Wrasslecast, one of my favorite wrestling podcasts
.)
Winner: Charlotte
Gallows and Anderson vs The New Day (Tag Team Championship)
I love Gallows and Anderson from their days in New Japan as part of the Bullet Club
but I will admit that since coming to the WWE have lost quite a bit of steam. After an ill fated attempt at using comedy as a part of their act it appears they are going to be rebooted as a serious bad ass duo which works for them. The New Day are amazing, but they have held the title over a year and frankly they are so hot with the crowds they could afford to lose the title and it will allow them to chase some singles titles as a faction. As a side-note seriously look up any podcast Luke Gallows and Karl Anderson are on, those two are HILARIOUS.
Winner: Gallows and Anderson
Seth Rollins vs Kevin Owens (Universal Championship)
As the great Keith Jackson would say....WHOA NELLY! Seth Rollins who is in the midst of becoming a great babyface and will probably face Triple H at Wrestlemania if things keep up the they currently are going against the best heel in the game and one of my favorites Kevin Owens.
What a dick.
These two will definitely put on a main event worthy match, my only concern is that Owens may get lost in the shuffle in this match as I expect Triple H to make an appearance and further the storyline with Seth Rollin. But with his power and athleticism I am choosing the Kevin Owens Show to be the victor with a pop up powerbomb and give us more moments of pure awesomeness.
Never change K.O.
Well there you go, my predictions which if my track record is any indication most will be wrong. Enjoy the show!