Hot diggity damn folks, its NFL draft time and with that comes yet another mock draft from yours truly here at Chocolate Puma Enterprises. You see I did so well in my brackets (dead last), fantasy football (5th place) and basketball (4th place) that I pretty much know what the people want, nay what the people need and that friends is the opinion of this humble scribe. These are the picks I think will be best suited for these teams so they'll mostly be wrong of this I am sure.
Now without further ado, the number one pick of the 2013 NFL draft…
1. Kansas City Chiefs- OT Luke Joeckel: Texas A&M
Kansas City was poor in all aspects last season but they aren't as bad as they would appear. They have a few pieces on defense, a new quarterback (Alex Smith), and two damn near elite skill players (Jamal Charles and Dwayne Bowe). All they need is someone to protect the QB and Joeckel is the best of the bunch.

2. Jacksonville Jaguars- DT Shariff Floyd: Florida

Blaine Gabbert isn't bad enough to warrant drafting Geno Smith here. I like the kid but not that much of an upgrade. Floyd is probably the one DT who has benefited the most from Star Lotulelei having a heart scare. And really never hurts to have an athletic defensive tackle on your squad.

3. Oakland Raiders- WR Tayvon Austin: West Virginia
In the first over-reach of the draft Oakland will grab the speedy receiver from West Virginia because they love fast guys who with explosive potential.

4. Philadelphia Eagles- QB Geno Smith: West Virginia

Very smart guy who works hard and is athletic enough to do some read option but with weapons like Lesean McCoy, Justin Maclin and Desean Jackson you really just need a strong armed and smart qb with enough mobility to avoid the sack.

5. Detroit Lions- LT Eric Fisher: Central Michigan

Second best tackle prospect in the draft according to most "experts" and I gotta agree. Given that Matthew Stafford's health is of the utmost importance, getting this bookend to Riley Reiff to give Stafford, Megatron, and newly acquired Reggie Bush room to do work.

6. Cleveland Browns- CB Dee Milliner- Alabama

The best corner in the draft by far and really the worst kept secret in the draft that the Browns covet him. Team him with Joe Haden and they have the best young corner duo in the league.

7. Arizona Cardinals- LT Lane Johnson: Oklahoma

Another trainwreck of a squad, Johnson can protect the newly acquired Carson Palmer and try and get Larry Fitzgerald in the game.

8. Buffalo Bills- QB Ryan Nassib: Syracuse
Athletic kid, good arm but frankly nothing too special in my opinion and believe me I'm wrong all the time. But his college coach is the new coach of the Bills, knows the system and Kevin Kolb is not about to become Jim Kelly anytime soon.

9. New York Jets- OLB Barkevious Mingo: LSU

The Jets love drafting busts and in the tradition of Vernon Gholston I present to you Barkevious Mingo, a combine warrior who frankly is a bit raw. If I had more faith in the Jets coaches I'd give him a chance but their history of coaching guys is up is quite abysmal.

10. Tennessee Titans- OT Chance Warmack: Alabama

They appear to be committed to Jake Locker who seems to be made of porcelain so why not get someone to protect him? At this spot he may be the best guy available. He's large with good footwork and fundamentally sound and beast in run blocking.

11. San Diego Chargers- WR Cordalle Patterson: Tennessee
Possibly the biggest risk/reward pick of the entire draft, he is not what one would call a polished route runner but get the ball in his game and sweet sassy molassey this guy is electric. This could be the guy that helps revitalize the career of Phillip Rivers.

12. Miami Dolphins- S Kenny Vaccaro: Texas

The best safety prospect takes his considerable talents to South Beach. He is a safety in the mold of Ed Reed in that he is a ball hawk and amazing in coverage. Last year they worked on the offensive side of the ball and this year the Dolphins will try and shore up the defensive side.

13. New York Jets- QB Matt Barkley: USC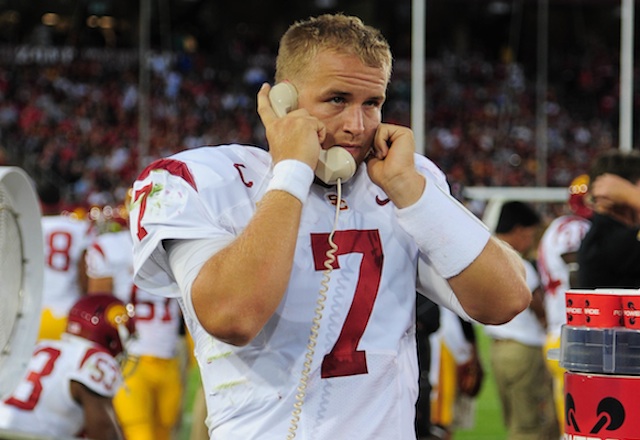 Hello? Sanchez?
Why not?

14. Carolina Panthers- CB Xavier Rhodes: FSU

Their secondary is so awful. A lot of blame was thrown towards Cam Newton and guess what he wasn't the one giving up Hail Mary bombs to Matt Ryan and every other QB in the NFC South. This is a step in the right direction.

15. New Orleans Saints- OLB Dion Jordan: Oregon

The offense outside of needing to run the ball more is pretty set. There are no first round running backs really so you grab the best defensive player on the board.

16. St. Louis Rams- G/C Jonathan Cooper: North Carolina

They are attempting to get help for Sam Bradford and the offense with the signing of Jake Long and now they need a center, and Cooper is the best of the bunch.

17. Pittsburgh Steelers- DE/OLB Damontre Moore: Texas A&M
With James Harrison gone, James Farrior old, the time to get some new blood in the defensive rotation is now. Moore was considered by many to be a top 5 pick but after a disastrous combine and pro day his stock has dropped much to the delight of many teams later in the draft.

18. Dallas Cowboys- OT D.J. Fluker: Alabama

They could not keep Tony Romo upright last year so this year the idea to draft a lineman has got to be a no brainer. At this point in the draft you should be able to grab this burly and aggressive fella from Tuscaloosa to keep the franchise healthy.

19. New York Giants- CB Jonathan Banks: Mississippi St.

Aaron Ross was very solid number one corner this past year; Corey Webster on the other hand was not. In Banks you get a corner big enough to deal with your Megatrons but also fast enough to keep up with the Desean Jacksons of the NFL.

20. Chicago Bears- OT Justin Pugh: Syracuse

Well if we keep drafting offensive lineman one has to be good. I mean the law of averages has to take over soon right?

21. Cincinnati Bengals- OLB Jarvis Jones: Georgia
The only picture of Jarvis Jones that matters.
After striking gold with the undrafted Vontaze Burfict this year they get his outside compliment in Jarvis Jones who in my opinion is the most explosive linebacker and can definitely be a game changer.

22. St. Louis Rams- WR Keenan Allen: Cal

They lost Danny Amendola to the Patriots in the offseason so the receiver from Cal could be the answer to fill that void. He has the size, is a polished route runner and definitely could be a security blanket for Sam Bradford.

23. Minnesota Vikings- MLB Manti Te'o: Notre Dame
"So where can I get a girl's email address here?"
This is only to anger my Minnesota friends.

24. Indianapolis Colts- DE Bjorn Woerner: Florida St.

With Dwight Freeney gone that defense will definitely need a pass rush and his strength also helps with run defense which makes him an every down lineman.

25. Minnesota Vikings- WR Deandre Hopkins:

The Vikings signed Greg Jennings but he never really stays healthy so drafting a backup who is an explosive athlete such as Hopkins who can excel on the turf of the great north.

26. Green Bay Packers- S Eric Reid: LSU

Charles Woodson is gone so again a pick of convenience. Reid is easily the second best safety in this class and should slide right in as a starter as he is solid in both the run and the pass.

27. Houston Texans- WR Justin Hunter: Tennessee

Andre Johnson is no spring chicken and has struggled with injuries in the last few seasons. While his upside is not that of his college teammate Patterson he is almost certain to be a solid contributor, which is just, what the Texans need.

28. Denver Broncos- S Matt Elam: Florida

There is no Ravens Super Bowl if not for the awful pass coverage by the Broncos. They attempt to shore this deficiency up with the ballhawk from Gainesville.

29. New England Patriots- DT Jonathan Hankins: Ohio St.

While they are set with people at defensive tackle this a very Patriot move, they get a guy from a proven program and appears to be a decent personality.

30. Atlanta Falcons- TE Tyler Eifert: Notre Dame

Tony Gonzalez is coming back for one more go round. May as well bring in his replacement to learn from the master. He is able to catch the ball in traffic; he can go up and get it and is an above average blocker.

31. San Francisco 49ers- TE Zach Ertz: Stanford

They lost Delanie Walker to the Titans and Vernon Davis needs a back up so hello Mr. Ertz a former player for coach Jim Harbaugh at Stanford.

32. Baltimore Ravens- CB Desmond Trufant: Washington

He is the top corner at this point in the draft and not a bad one. He can certainly be of help on an aging defense that has lost two of its icons in Ed Reed and Ray Lewis.



Well folks there you have it, the 2013 NFL Draft. So there is no need to even watch tomorrow I have it nailed.