There are few moments in the sports calendar I love more than the NBA trade deadline. So without further ado I, the Chocolate Puma will grade and give my assessment of each trade that was made.
1. New York Knicks ACQUIRE:
Carmelo Anthony, Forward
Chauncey Billups, Guard
Shelden Williams, Forward
Renaldo Balkman, Forward
Anthony Carter, Guard
Corey Brewer, Forward
Denver Nuggets ACQUIRE:
Danilo Gallinari, Forward
Wilson Chandler, Forward
Raymond Felton, Guard
Timofey Mozgov, Center
Kosta Koufos, Center
Knicks first-round pick (2014 or later)
Warriors' second-round picks in 2012 and 2013
$3 million
Minnesota
TIMBERWOLVES ACQUIRE
Eddy Curry, Center
Anthony Randolph, Forward
This was the trade everyone knew was coming, that took forever to happen and when it finally did there wasn't so much a sense of excitement as a sense of relief that it was finally over. That said, does this make the Knicks that much better? No, more entertaining but really not that better overall. The bench is shot, and Anthony takes a lot of shots. Denver picks up young talent such as Gallinari who some believe could be a Dirk lite and Wilson Chandler is a future player. The Knicks were able to shed Eddy Curry which is probably the best part, and Anthony Randolph appears to just be a Summer league legend who won't perform in the regular season.
Grade: B-
2.Toronto Raptors ACQUIRE
James Johnson, Forward
Chicago Bulls ACQUIRE
Miami's 2011 first-round pick
Not a bad deal for either team, the Bulls will be able to add another young piece in the draft and Toronto gets an athletic wing player in Johnson who just didn't fit into Chicago's scheme.
Grade: A
3. New Jersey Nets ACQUIRE
Brandan Wright, Forward
Dan Gadzuric, Center
Golden State Warriors ACQUIRE
Troy Murphy, Forward
2012 Nets second-round pick
A very meh deal, Brandan Wright appears to be another Anthony Randolph type which pains me since he is a UNC guy. While Gadzuric is good for at least 6 fouls a game. Troy Murphy is a solid player who will be bought out and contribute to a playoff team.
Grade: C
4. New Orleans Hornets ACQUIRE
Carl Landry, Forward
Sacramento Kings ACQUIRE
Marcus Thornton, Guard
Cash considerations
Good deal for both, Landry is a solid forward while Marcus Thornton is a good young guard still on his rookie contract. Helps both sides.
Grade: B
5.New Jersey Nets ACQUIRE
Deron Williams, Guard
"I'm sorry, you traded me where?"
Utah Jazz ACQUIRE
Devin Harris, Guard
Derrick Favors, Forward
Two 2011 first-round picks
$3 Million
This deal is amazing for the Nets, while the Jazz also make out pretty well. Harris is a very good guard just below all-star level and a few years playing behind Al Jefferson for Derrick Favors will do wonders for him. The 2 first rounds picks that they got however should get them arrested for larceny.
Grade A+
6. Atlanta Hawks ACQUIRE
Kirk Hinrich, Guard
Hilton Armstrong, Center
Washington Wizards ACQUIRE
Mike Bibby, Guard
Maurice Evans, Forward
Jordan Crawford, Guard
2011 first-round pick
The Wizards will likely buy out Bibby, but Evans and Crawford are two good pieces to add to any bench as they are young, talented and in the case of Crawford on a rookie contract. The Hawks get a solid point guard, experienced and a good defender in Hinrich and a young post defender in Hilton Armstrong.
Grade: B
7. Los Angeles Clippers ACQUIRE
Mo Williams, Guard
Jamario Moon, Forward
Cleveland Cavaliers ACQUIRE
Baron Davis, Guard
2011 first-round pick
For the Cavs at least they get a first rounder. They are about to get a very unhappy BD and his untradeable contract. As for the Clips, Mo Williams wants to start, leaving Eric Bledsoe right where he is, and Jamrio Moon may hinder the growth of Al Farouq Aminu. Just a confusing deal all around.
Grade: D+
8. Boston Celtics ACQUIRE
Jeff Green, Forward
Nenad Krstic, Center
Oklahoma City Thunder ACQUIRE
Kendrick Perkins, Center
Nate Robinson, Guard
This I think is an awesome deal for the Thunder. They get size and toughness from Perkins and a spark plug from Robinson. While I like Green as a player, I don't see how this deal helps the Celtics. Kristic is a better offensive center but with Pierce, Allen, and Garnett you don't really need that much offense from the center position.
Grade: B
9. Charlotte Bobcats ACQUIRE
Joel Przybilla, Center
Dante Cunningham, Forward
Sean Marks, Center
Two first-round draft picks and cash
Portland Blazers ACQUIRE
Gerald Wallace, Forward
Helps Portland, while does nothing really for the Bobcats given their draft record as the two first round picks are the highlight of the deal for them. A very meh deal overall.
Grade: C
10. Charlotte Bobcats ACQUIRE
Morris Peterson, Guard
D.J. White, Forward
Oklahoma City Thunder ACQUIRE
Nazr Mohammed, Center
Another good move from the Thunder. Acquiring more toughness to combat the Lakers and Spurs post advantage. The deal once again doesn't hurt the Bobcats but doesn't help that much unless Peterson hops in a hot tub time machine to his days in Toronto.
Grade: B-
11. Boston Celtics ACQUIRE
Second-round pick
Cleveland Cavaliers ACQUIRE
Semih Erden, Center
Luke Harangody, Forward
Meh.
Grade: C
12. Houston Rockets ACQUIRE
Goran Dragic, Guard
Suns first-round pick
Phoenix Suns ACQUIRE
Aaron Brooks, Guard
Houston gets rid of a disgruntled player who was good for a player who's career highlight was getting jammed on by Derrick Rose.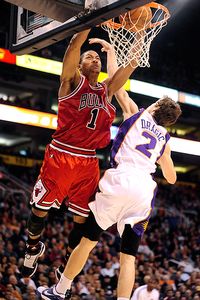 Grade: D
13. Houston Rockets ACQUIRE
Hasheem Thabeet, Center
DeMarre Carroll, Forward
First-round pick
Memphis Grizzlies ACQUIRE
Shane Battier, Forward
Ishmael Smith, Guard
So you trade away your leader on the floor for a historic level bust and you give them a first rounder as well? Are you serious?!?!?!
Frade: F-